Adventure Everyday Tank Top
There is a wild and adventurous spirit that lives within each one of us.
It yearns for the feel of the sun on our skin, the thrill of a new experience, the quiet serenity of a campfire under a starry sky.
It is this spirit that our Adventure Everyday tank top captures. A classic, soft, and versatile piece of clothing, it embodies the call of the wild that resonates with all of us.
The Adventure Everyday tank top is made of 100% combed and ringspun cotton, promising superior quality and softness.
This means the fabric is softer, smoother, and stronger than your typical cotton shirt.
Combed and ringspun cotton has been fine-tuned to eliminate any impurities, leaving only the longest and strongest cotton fibers.
The result is a tank top that not only feels soft against your skin but also stands up to your most adventurous days.
Reflecting our brand's love for beach life, outdoors, camping, van life, and the spirit of fun adventures, this tank top is designed to suit anyone seeking to add a pinch of thrill to their lifestyle.
The words 'Adventure Everyday' printed across the front are more than just a design.
They're a mantra for those of us who believe in living each day to the fullest, in seeking out new experiences, in embracing the wild and free spirit within us.
The Adventure Everyday tank top also features a fabric weight of 4.2 oz/yd² (142.40 g/m²), providing a light, breathable fit ideal for any activity – from beachside lounging to vigorous hiking.
For those who prefer a blend, we offer triblends that come in at a weight of 3.8 oz/yd² (90.07 g/m²) – an amalgamation of 50% polyester, 25% combed, and 25% ringspun cotton/rayon.
Constructed with a 30 singles thread weight and side seams, this tank top ensures long-lasting durability without compromising on comfort.
Whether you're exploring a new trail, setting up camp, or catching waves, this tank top will stand up to whatever your adventure throws at it.
But the Adventure Everyday tank top is more than just a piece of clothing.
It's an embodiment of a lifestyle, a commitment to making each day an adventure.
It's an invitation to embrace the outdoors, to find joy in the journey, to pursue experiences over possessions.
It's for those who believe life should be an exciting, never-ending adventure, that there's always a new experience waiting just around the corner.
In this tank top, we offer not just clothing, but a way to connect with your adventurous spirit.
It's about anticipation, about desire, about the thrill that comes with stepping out of your comfort zone.
So, whether you're hitting the beach, heading out for a hike, or setting off on a road trip, the Adventure Everyday tank top is more than just clothing.
It's a celebration of the adventurous spirit in you.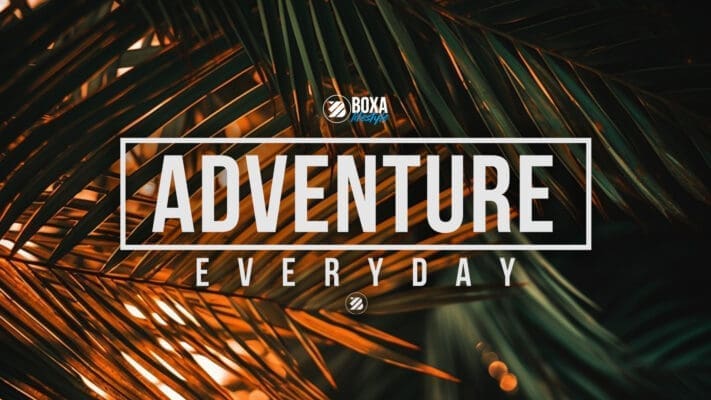 Style & Fit
Standard Fit - Designed to move with you, this tank top has a standard length and flexes easily.
Versatile Style - A timeless choice, our valued customers prefer this durable and adaptable tank top, making it an ideal selection for everyday wear.
Seam Detail - Assembled by joining two sections, it offers a tailored appearance.
Strengthened Shoulder Taping - With reinforced tape or binding that covers the shoulder and neck seams, our tank top effectively addresses stress points, showcasing the superior quality of our garment construction.
Material
Pristine Shades - Our tank top is made of 100% Airlume combed and ring-spun cotton. Our tri-blends consist of 50% polyester, 25% combed, 25% ring-spun cotton, and rayon. The Athletic Heather variant is 90% Airlume combed and ring-spun cotton, 10% polyester, while the other Heather colors are 52% Airlume combed and ring-spun cotton, 48% polyester.
Fabric Weight - The fabric weighs 4.2 oz/yd² (142.40 g/m²) for regular options, while the tri-blends weigh 3.8 oz/yd² (90.07 g/m²). It's pretreated to ensure durability.
Pre-treated for longevity
Features
Bestseller
This is our most popular item, cherished by our customers and quickly becoming a standout choice in their wardrobes.
Ethically Produced - Our commitment to ethical and sustainable practices is demonstrated in our 100% sweatshop-free and eco-friendly manufacturing. Soft, lightweight, perfectly stretchable, and universally flattering, this tank top is poised to become your next wardrobe staple. Its quality can't be overstated!
Handmade to Order - We tailor our products by hand according to demand. This approach results in minimal waste and a more eco-friendly production process than traditional manufacturing. By choosing our product, you're making a positive impact on the environment.
Supporting Local Economies - We strive to fulfill 78% of our orders within the same region as our customers. This practice not only boosts local economies but also significantly reduces carbon emissions, helping to lessen our environmental footprint.
We rely on our suppliers for precise measurements of our products, and there might be a slight deviation of up to 2" (5cm).
Here's an insider tip to secure your perfect fit!
To guarantee the optimal fit, we suggest you measure one of your own garments at home and juxtapose it with the specifications provided in our sizing guide.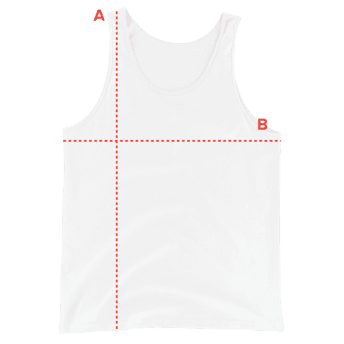 A Width
Place the end of the tape beside the collar at the top of the tee (Highest Point Shoulder). Pull the tape measure to the bottom of the shirt.
B Width
Measure yourself around the fullest part of your chest. Keep the tape measure horizontal.
Inches
| | | |
| --- | --- | --- |
| SIZE | LENGTH | CHEST |
| XS | 26 | 31 - 34 |
| S | 27 | 34 - 37 |
| M | 28 | 38 - 41 |
| L | 29 | 42 - 45 |
| XL | 30 | 46 - 49 |
| 2XL | 31 | 50 - 53 |
Product measurements may vary by up to 2" (5 cm).
Centimeters
| | | |
| --- | --- | --- |
| SIZE | LENGTH | CHEST |
| XS | 66 | 78.7 - 86.4 |
| S | 68.6 | 86.4 - 94 |
| M | 71 | 96.5 - 104 |
| L | 73.7 | 106.7 - 114.3 |
| XL | 76.2 | 116.8 - 124.5 |
| 2XL | 78.7 | 127 - 134.6 |
Product measurements may vary by up to 2" (5 cm).
Wash
Ensure the longevity of your Tank Top by machine washing cold, inside-out, on a gentle cycle with mild detergent alongside similar colors. Utilize non-chlorine bleach only when absolutely necessary. Refrain from using fabric softeners.
Dry
For optimal durability, consider tumble drying on a low setting or hang-drying.
Iron
If ironing is required, make sure to turn the shirt inside-out and use a cool setting. Avoid ironing the decoration.
Dry Clean
Do not dry clean.
Steer clear of dry cleaning to maintain the integrity of the tank top.
Returns & Exchanges Policy:
Please note that certain items, including those on clearance, may not be eligible for return or exchange.
For comprehensive information, please view our Returns & Exchanges Details.