Retro Sunset Tank Top
BOXA Retro Sunset tank top is a call to the wild, to the freedom of the beach life, to the exhilaration of the outdoors, to the spontaneity of camping, and to the liberty of the van life.
If you are enchanted by the call of adventure, this tank top is your emblem of a fun and adventurous lifestyle.
A timeless classic, the Sunset tank top is a staple piece that blends quality, softness, and an aesthetic that encapsulates the spirit of adventure.
It's more than a garment; it's a testament to your passion for exploration, a physical embodiment of your adventurous spirit, and a symbol of your pursuit for the best quality.
The Sunset tank top boasts of 100% combed and ringspun cotton, a fabric revered for its superior softness and resilience.
The tank top carries a fabric weight of 4.2 oz/yd² (142.40 g/m²), striking an ideal balance between a lightweight feel and enduring durability, making it a reliable companion for your endless adventures.
Exquisitely crafted with a 30 singles thread weight, the Sunset tank top promises an exceptional fit that seamlessly complements your form.
Its side-seamed construction reinforces the garment's shape, ensuring it stands resilient in the face of countless escapades.
The allure of the Sunset tank top lies in its breathtaking design.
The graphic illustrates a retro-style sunset, transitioning from radiant yellow to deep orange, mirroring the ethereal beauty of the sun setting over the vast ocean.
The vibrant design is graced with the BOXA logo, an emblem of the adventurous spirit.
The Sunset tank top is a sensation, an emotional experience rather than just a garment.
It's not a sales pitch; it's an emotional journey, a promise of the rush of the sea breeze, the warmth of the sun, and the thrill of adventure.
It kindles a sense of anticipation, sparking a desire to explore and discover.
BOXA's Sunset tank top offers not just a comfortable fit; it presents the possibility of an adventure right in the palm of your hand.
It's more than just a tank top; it's a feeling, a passion, an adventurous lifestyle – the BOXA lifestyle.
With BOXA, you're investing in a belief, a belief in the joy of the moment, in the thrill of exploration, in the beauty of living life to the fullest.
The Sunset tank top embodies this belief – it's a tribute to the golden sunsets, a reflection of your love for the outdoors, and an expression of your adventurous spirit.
Why wait to experience the joy of exploration, the serenity of beach life, and the liberation of open roads?
Embrace the quality, comfort, and softness of our Sunset tank top, and become a part of the BOXA family.
Welcome the sunset together, one day at a time, with a BOXA Sunset tank top.
Style & Fit
Standard Fit - Designed to move with you, this tank top has a standard length and flexes easily.
Versatile Style - A timeless choice, our valued customers prefer this durable and adaptable tank top, making it an ideal selection for everyday wear.
Seam Detail - Assembled by joining two sections, it offers a tailored appearance.
Strengthened Shoulder Taping - With reinforced tape or binding that covers the shoulder and neck seams, our tank top effectively addresses stress points, showcasing the superior quality of our garment construction.
Material
Pristine Shades - Our tank top is made of 100% Airlume combed and ring-spun cotton. Our tri-blends consist of 50% polyester, 25% combed, 25% ring-spun cotton, and rayon. The Athletic Heather variant is 90% Airlume combed and ring-spun cotton, 10% polyester, while the other Heather colors are 52% Airlume combed and ring-spun cotton, 48% polyester.
Fabric Weight - The fabric weighs 4.2 oz/yd² (142.40 g/m²) for regular options, while the tri-blends weigh 3.8 oz/yd² (90.07 g/m²). It's pretreated to ensure durability.
Pre-treated for longevity
Features
Bestseller
This is our most popular item, cherished by our customers and quickly becoming a standout choice in their wardrobes.
Ethically Produced - Our commitment to ethical and sustainable practices is demonstrated in our 100% sweatshop-free and eco-friendly manufacturing. Soft, lightweight, perfectly stretchable, and universally flattering, this tank top is poised to become your next wardrobe staple. Its quality can't be overstated!
Handmade to Order - We tailor our products by hand according to demand. This approach results in minimal waste and a more eco-friendly production process than traditional manufacturing. By choosing our product, you're making a positive impact on the environment.
Supporting Local Economies - We strive to fulfill 78% of our orders within the same region as our customers. This practice not only boosts local economies but also significantly reduces carbon emissions, helping to lessen our environmental footprint.
We rely on our suppliers for precise measurements of our products, and there might be a slight deviation of up to 2" (5cm).
Here's an insider tip to secure your perfect fit!
To guarantee the optimal fit, we suggest you measure one of your own garments at home and juxtapose it with the specifications provided in our sizing guide.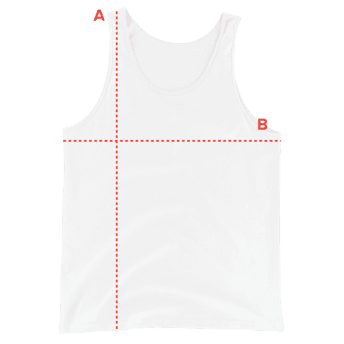 A Width
Place the end of the tape beside the collar at the top of the tee (Highest Point Shoulder). Pull the tape measure to the bottom of the shirt.
B Width
Measure yourself around the fullest part of your chest. Keep the tape measure horizontal.
Inches
| | | |
| --- | --- | --- |
| SIZE | LENGTH | CHEST |
| XS | 26 | 31 - 34 |
| S | 27 | 34 - 37 |
| M | 28 | 38 - 41 |
| L | 29 | 42 - 45 |
| XL | 30 | 46 - 49 |
| 2XL | 31 | 50 - 53 |
Product measurements may vary by up to 2" (5 cm).
Centimeters
| | | |
| --- | --- | --- |
| SIZE | LENGTH | CHEST |
| XS | 66 | 78.7 - 86.4 |
| S | 68.6 | 86.4 - 94 |
| M | 71 | 96.5 - 104 |
| L | 73.7 | 106.7 - 114.3 |
| XL | 76.2 | 116.8 - 124.5 |
| 2XL | 78.7 | 127 - 134.6 |
Product measurements may vary by up to 2" (5 cm).
Wash
Ensure the longevity of your Tank Top by machine washing cold, inside-out, on a gentle cycle with mild detergent alongside similar colors. Utilize non-chlorine bleach only when absolutely necessary. Refrain from using fabric softeners.
Dry
For optimal durability, consider tumble drying on a low setting or hang-drying.
Iron
If ironing is required, make sure to turn the shirt inside-out and use a cool setting. Avoid ironing the decoration.
Dry Clean
Do not dry clean.
Steer clear of dry cleaning to maintain the integrity of the tank top.
Returns & Exchanges Policy:
Please note that certain items, including those on clearance, may not be eligible for return or exchange.
For comprehensive information, please view our Returns & Exchanges Details.