A Year in Wooden Elegance
Wooden sunglasses are a harmonious blend of nature and style, offering an adaptable accessory for every season. Whether you're hitting the beach or savoring autumn hues, wooden frames like BOXA's add a touch of sophistication to your look. In this article, we'll explore how to style these eco-chic gems all year round.
Summer – Laid-Back Coolness with BOXA Airlie's
When the mercury rises and the scent of sunscreen fills the air, it's time for summer to take the stage. This season is all about liberation, both in what you do and how you look. Let's delve deeper into crafting that laid-back summer vibe with the right pair of sunglasses: the BOXA Airlie's Brown & Dark Bamboo Wood Sunglasses.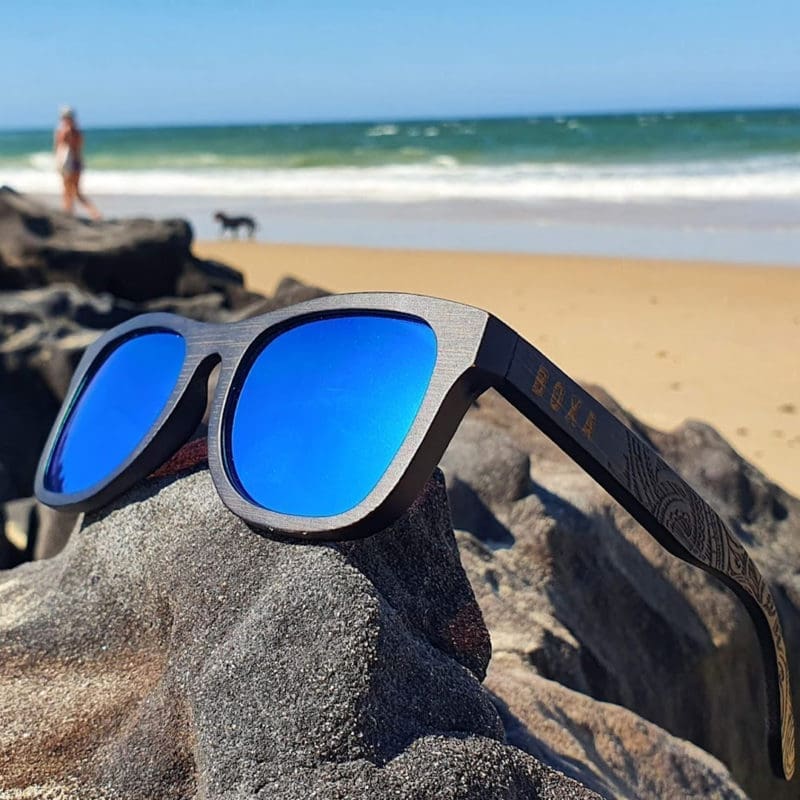 Crafted from 100% real layered bamboo, BOXA Airlie's bring the essence of summer to life. With unique wood striations, each pair carries its own signature, a testament to the beauty of natural elements. The lightweight skateboard wood frames are designed to offer a comfortable fit that is durable and sturdy, ensuring that your eyewear is as relaxed as your summer days.
Feature Highlight: Floating Capabilities
One of the standout features is that they float in water. Whether you are going for a paddle in the ocean or relaxing by the pool, the Airlie's have got you covered. If they fall off during a spirited game of beach volleyball, rest assured they won't sink to the ocean's abyss.
Lens Suggestion: Ocean Blue Polarized Lenses
The Ocean Blue Polarized Lenses are more than just a fashion statement; they mirror the vibrant sky and sea, creating a harmonious look. These lenses also offer UV-400 UVA & UVB protection, making them a smart choice for those long days in the sun.
Styling Tips:
Casual Beach Outings
Pair your Airlie's with a breezy, lightweight linen shirt and some tailored shorts for an effortless beach look. The wooden aesthetic of these sunglasses complements natural fabrics, emphasizing a relaxed yet refined style.
Brunch Dates and Garden Parties
Summer also calls for brunches and garden soirées. For a casual yet stylish look, team your Airlie's with floral summer dresses. Throw in a wide-brimmed hat, and you've got yourself an outfit perfect for sipping mimosas or enjoying an afternoon tea outdoors.
Water Activities
If you're heading to the beach or lake for some water activities, match your Airlie's with swimwear. From bikinis to one-pieces, the bamboo wood design is versatile enough to accompany any swim attire.
Elevate Your Summer Game with Accessories
To make your outfit pop, consider accessorizing with beaded necklaces or bohemian-inspired bracelets. You can also add a straw tote bag for a complete summer ensemble.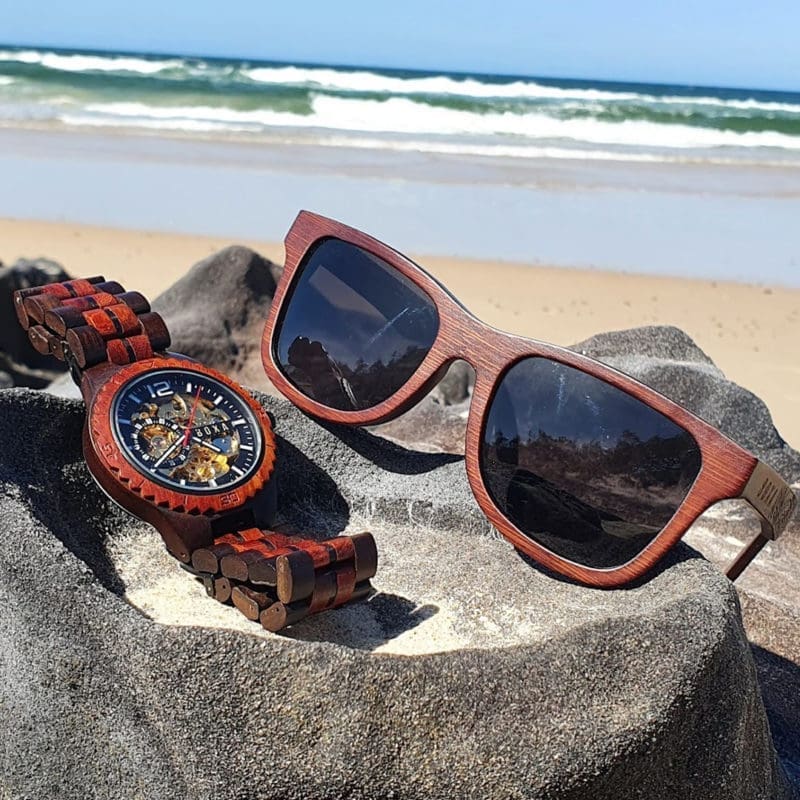 Autumn – Embrace Earthy Charm with BOXA 1770's
As the leaves transform into a mesmerizing blend of rust and amber, autumn ushers in a season of coziness and earthy tones. This is the time when your style can mirror the warm hues of nature, and what better way to do that than with the right pair of sunglasses? Allow me to introduce the BOXA 1770's Brown Bamboo Wood Sunglasses as your ideal autumnal accessory.
Constructed from 100% real layered bamboo skateboard wood, the 1770's are not just a style statement, but an ode to craftsmanship. Each pair showcases its unique wood striations, reflecting the diversity and beauty of the fall landscape. The comfortable, lightweight frames are designed to last, aided by sturdy stainless-steel, double-spring hinges.
Feature Highlight: Engraved Artwork
The BOXA 1770's come with unique, custom-designed artwork engraved into the arms, elevating the aesthetics while adding a personal touch to your fall wardrobe.
Lens Suggestion: Coffee Brown Polarized Lenses
When it comes to lens selection, the Coffee Brown Polarized Lenses are a perfect match for autumn. These lenses not only provide superior UV-400 UVA & UVB protection but also effortlessly complement the earthy colors of your fall wardrobe.
Styling Tips:
Weekend Getaways
As autumn is synonymous with weekend escapes to view the fall foliage, pair your 1770's with chunky knits and well-fitted jeans. Ankle boots finish off this classic look, making you ready for that impromptu photo shoot against the backdrop of golden leaves.
Casual Fridays and Coffee Dates
The 1770's harmonize beautifully with layers. Think turtleneck sweaters under lightweight jackets or long, flowing cardigans. Whether you're at work or meeting someone for a pumpkin spice latte, your style will speak volumes.
Harvest Festivals and Outdoor Events
Planning to attend a harvest festival or an open-air concert? The 1770's pair perfectly with casual dresses and skirts. Consider adding some layered necklaces or a stylish scarf to complete your autumn look.
Accessorizing Your Autumn Wardrobe
Don't shy away from accessorizing. Leather or suede bags, wide belts, and hats can add the final flourish to your outfit, making it both functional and fabulous.
To wrap it up, BOXA 1770's Brown Bamboo Wood Sunglasses are a fall essential for those looking to blend style with sustainability. Their natural wood design and polarized lenses make them a versatile addition to your autumn wardrobe, ensuring that you're equipped to greet the season in style.
Order Now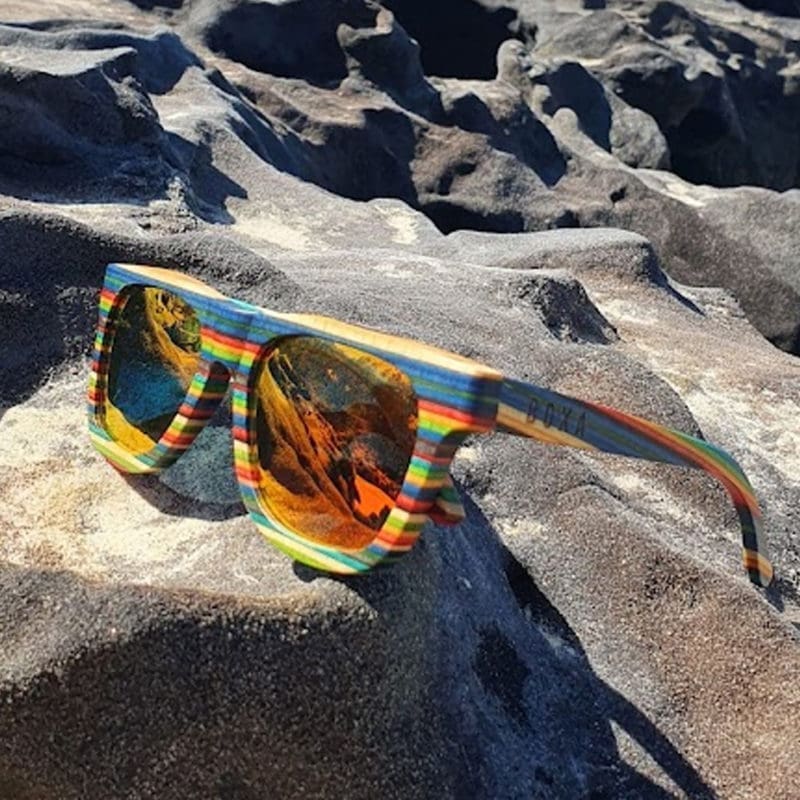 Winter – Elevate Your Snow-Proof Glamour with Neverlands – Rainbow Wood Sunglasses
Winter may be a season of chill and snow, but it's also a time for glamour, sophistication, and the allure of cozy couture. Navigate through the snowy season with poise and style with the Neverlands – Rainbow Wood Sunglasses.
If winter had a melody, these sunglasses would be its visual representation. Crafted from 100% real layered rainbow wood, the Neverlands are designed to give each pair its own unique wood striations, mirroring winter's diverse tapestry. They boast lightweight frames and sturdy stainless-steel, double-spring hinges for a comfortable, lasting fit.
Feature Highlight: Floats in Water
These unique sunglasses float in water, thanks to their lightweight bamboo material. Whether you're skiing, snowboarding, or enjoying a winter hot spring, rest assured that your eyewear is as resilient as you are.
Lens Suggestion: Dark Knight Polarized Lenses
For those foggy, overcast days that often come with winter, the Dark Knight Polarized Lenses not only offer UV-400 protection but also add an extra layer of mystery and intrigue to your look.
Styling Tips:
Snowy Escapades
Heading to the slopes? These Rainbow Wood Sunglasses match perfectly with your skiing or snowboarding gear. Add a dash of charisma to your winter sports ensemble without sacrificing functionality.
Urban Chic
For city dwellers, think tailored wool coats and statement turtlenecks. The Neverlands can elevate a simple outfit, turning your walk down snowy streets into a fashion-forward journey.
Holiday Elegance
Winter is a season filled with holiday events and family gatherings. Complement your elegant dresses or chic suits with the iridescent allure of the Rainbow Wood Sunglasses, effortlessly balancing festivity and sophistication.
Accessorizing Your Winter Look
Scarves, gloves, and berets—don't hold back. The Neverlands provide a neutral yet captivating base that allows you to play with winter textures and layers.
Order now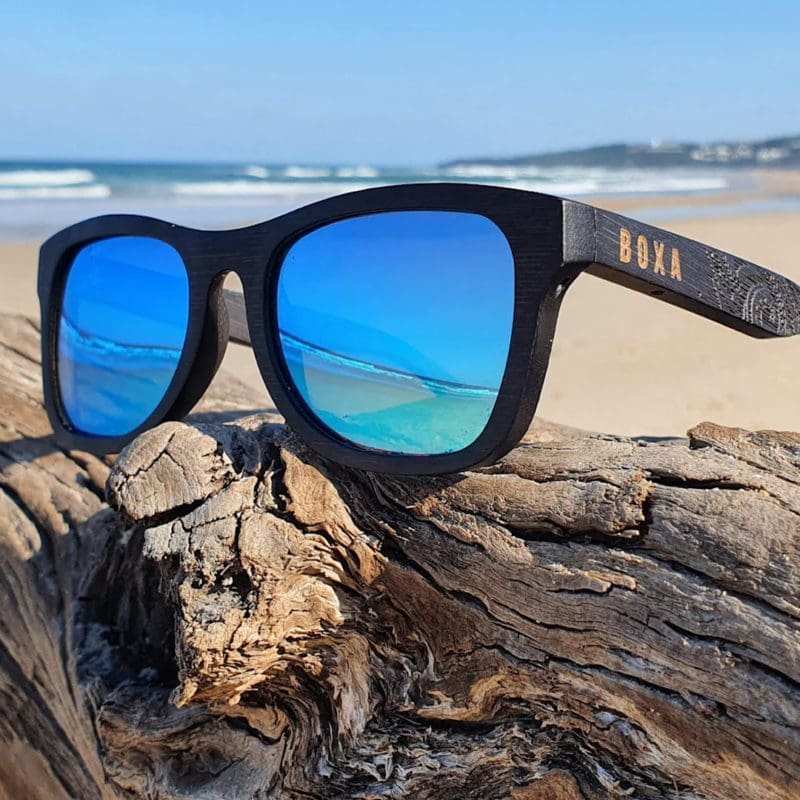 Spring – Blossom and Bamboo with BOXA Airlie's Bamboo Wood Sunglasses
As winter thaws and spring emerges, so too does a new opportunity for fashionable expression. What better way to embody the rejuvenation and vibrant life of the season than with BOXA Airlie's Bamboo Wood Sunglasses?
Crafted from genuine bamboo, these lightweight frames offer a refreshing aesthetic—each pair is an ode to the newness of spring with unique wood striations. The stainless-steel, double-spring hinges ensure both comfort and longevity, letting you focus on the season's blooms rather than adjustments or repairs.
Feature Highlight: Sustainable Fashion
These bamboo sunglasses not only stand out for their design but also resonate with eco-conscious style enthusiasts. A truly sustainable choice, BOXA Airlie's Bamboo Wood Sunglasses harmonize perfectly with the renewal ethos of spring.
Lens Suggestion: Sunset Orange Polarized Lenses
Greet the returning sun with lenses designed to capture its essence. Our Sunset Orange Polarized Lenses offer UV-400 protection and a radiant hue that mimics the season's first warm sunsets.
Styling Tips:
A Breath of Fresh Air
Start the season with a wardrobe refresh—think pastel blouses, floral prints, and light denim. A chiffon skirt or floral jumpsuit can add that extra bounce in your step.
Casual Elegance
For casual outings, light denim jackets or a simple white tee can serve as a canvas, allowing the Bamboo Wood Sunglasses to shine as the statement piece.
Weekend Picnics
Planning a spring picnic or garden gathering? Add a bohemian touch with straw hats and flowy dresses, perfectly complemented by the bamboo aesthetic of your Airlie's.
Accessorizing Your Spring Look
Spring is a time for lightweight scarves, woven belts, and playful hair accessories. The bamboo sunglasses provide a grounded, natural element that complements an array of fabrics and textures.
Order now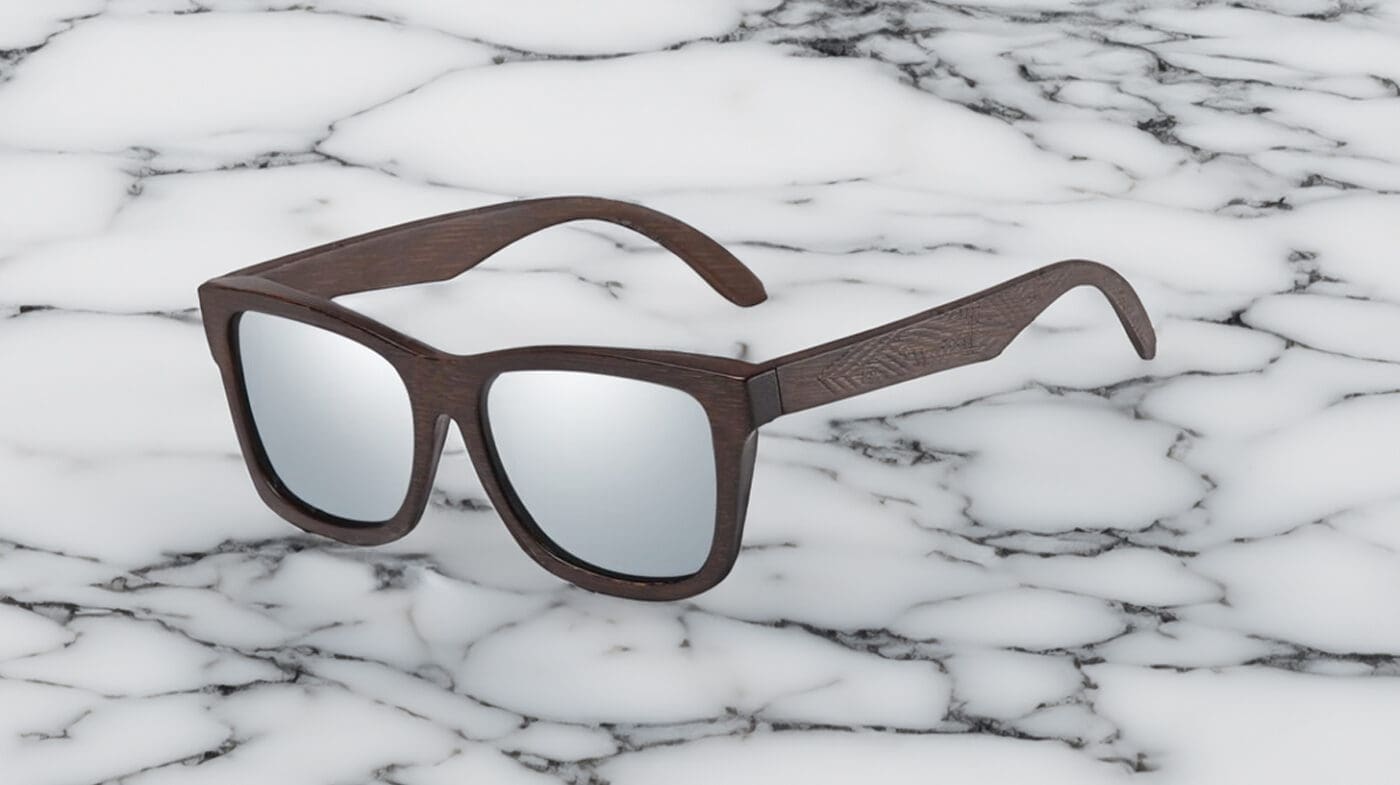 Special Occasions – Always On Point with BOXA 1770's and Silver Polarized Lenses
When it comes to special occasions, eyewear often takes a backseat to gowns, suits, and shoes. However, BOXA 1770's wooden sunglasses with Silver Polarized Lenses prove that the right pair can elevate your formal look to a realm of unparalleled elegance.
The 1770's in brown bamboo wood offer an enchanting blend of tradition and modernity. The frames feature unique wood striations that render each pair distinct, adding a touch of personalized style to your formal ensemble. Paired with Silver Polarized Lenses, these sunglasses provide an extra layer of sophistication, reflecting an aura of timeless refinement.
Feature Highlight: Effortlessly Chic
Silver Polarized Lenses are a pinnacle of chic sophistication. Their mirrored finish not only provides excellent UV protection but also adds an alluring touch that radiates poise and self-assurance.
Styling Tips:
Black-Tie Brilliance
In black-tie events, attention to detail is everything. The BOXA 1770's can add a daring yet elegant nuance to a classic tuxedo or evening gown. For women, think silk or sequins; for men, velvet blazers or tailored suits.
Glamorous Weddings
For summer weddings or open-air soirées, these sunglasses will not only protect your eyes but also serve as a classy accessory. Imagine pairing them with an elegant updo or sophisticated pocket square—the opportunities for harmonious pairings are limitless.
Elegant Evenings
For less formal but equally special evenings, such as anniversary dinners or art gallery openings, the BOXA 1770's create a mood of subdued elegance when combined with tailored slacks, midi dresses, or even sleek leather jackets.
Seasonal Style, Year-Round Charm
From the scorching summers to the icy winters, your BOXA wooden sunglasses are versatile fashion statements that adapt to your seasonal needs. Tailor your lens choices for a personalized touch and enjoy a year of uninterrupted style and comfort.