Sun, Salt, Sand Beach T-Shirt
Immerse yourself in the sun-soaked, salt-tinged, sand-kissed charm of beach life with our Sun, Salt, Sand T-shirt.
Boasting 100% combed and ring-spun cotton construction, this shirt is your loyal companion on countless adventures and serene moments alike.
The first touch of this T-shirt against your skin instantly tells a story of superior quality and exquisite comfort.
Crafted from combed and ring-spun cotton, it nestles against your skin like a gentle sea breeze, refreshing, comforting, and uplifting.
The heather variants do contain a hint of polyester, providing an extra layer of durability while maintaining the shirt's luxurious softness.
Weighing 4.2 oz/yd² (142 g/m²), this T-shirt provides a balance between breezy lightness and gratifying texture. It's substantial enough to endure countless explorations, yet light enough to feel like a second skin.
Thanks to the pre-shrunk fabric, the shirt's shape and size remain consistent through numerous wash cycles, ensuring that it stays as a reliable wardrobe staple for years to come.
What makes our T-shirt different is the attention to detail. The side-seamed construction offers a flattering fit, gently hugging your form while allowing ample room for movement.
The shoulder-to-shoulder taping lends further structure and longevity, reinforcing the seam and adding a polished finish.
The centerpiece of this T-shirt is undoubtedly the captivating "Sun, Salt, Sand" inscription, enhanced by a whimsical palm tree silhouette.
The simple yet profound phrase encapsulates the essence of beach life – the warmth of the sun on your skin, the invigorating taste of salt in the air, and the tickling sensation of sand between your toes.
This shirt is more than a piece of clothing; it's a constant reminder to embrace the simplicity and beauty of life.
Your adventures under the sun, whether it be camping in the wilderness, exploring the great outdoors, or living the van life, deserve to be adorned with this T-shirt.
Its comfort is rivaled only by the sense of belonging it brings, resonating with your love for the sun, salt, and sand.
The T-shirt serves as a beacon, reminding you of your connection to the natural world, inviting you to immerse yourself in the experiences it offers.
When you wear it, you're not just donning a piece of fabric; you're embodying a lifestyle, a state of mind, a testament to your love for the serene rhythm of beach life.
So whether you're at the beach, around the campfire, cruising in your van, or merely lounging at home, let the Sun, Salt, Sand T-shirt amplify your experience.
Let it carry you away to places where the sun warms your skin, the salt air revives your spirit, and the sand massages your feet. Revel in the anticipation, knowing that each wear brings a slice of paradise into your daily life.
Believe in the quality, trust in the durability, and most importantly, indulge in the sheer comfort of this shirt. It is crafted not just to be worn but to be lived in, to be part of your daily adventures.
Every thread, every letter, and every detail is a testament to the life you desire and the moments you cherish.
Wear the Sun, Salt, Sand T-shirt with pride. Let it be a symbol of your carefree spirit, your unending adventures, and your unabashed love for the beach life.
The sun, the salt, the sand – they're not just elements; they're an experience, an adventure. And with this shirt, you're ready to live it – every single day.
• 100% combed and ring-spun cotton (Heather colors contain polyester)
• Fabric weight: 4.2 oz/yd² (142 g/m²)
• Pre-shrunk fabric
• Side-seamed construction
• Shoulder-to-shoulder taping
Style & Fit
Standard Fit
Our fabric is engineered to provide freedom of movement, accompanied by a typical length that meets the demands of any activity.
Everyday Style
Our cherished customers favor this enduring and adaptable selection, making it the go-to choice for daily wear.
Side-Seamed
Our unique manufacturing process stitches two pieces together, creating a neat and body-contouring silhouette.
Reinforced Shoulder Taping
Covering the shoulder and neck seams, our reinforced tape or binding handles stress points remarkably, acting as a hallmark of the exceptional caliber of our shirt construction.
Material
Pure Tones
Our pure tones are composed of 100% combed and ring-spun cotton, guaranteeing top-tier quality and unrivaled comfort.
Diverse Hues
Our T-shirt is available in an array of shades, including Ash (composed of 99% combed and ring-spun cotton and 1% polyester), Heather variants (crafted from 52% combed and ring-spun cotton and 48% polyester), Athletic and Black Heather (constructed with 90% combed and ring-spun cotton and 10% polyester), and Heather Prism colors (made up of 99% combed and ring-spun cotton and 1% polyester).
Fabric weight: 4.2 oz/yd² (142 g/m²)
Pre-treated for longevity
Features
Bestseller
Our best-selling item, loved by our customers, has evolved into a fan favorite, standing out in the crowd.
Conscientiously Made
Our devotion to ethical and sustainable methods is evident in our 100% sweatshop-free and environmentally conscious production. Possessing a soft and lightweight touch, with just the perfect level of stretch, and a universally flattering fit, this T-shirt is poised to be an all-round favorite and your next wardrobe essential. We can't emphasize its merits enough!
Custom Crafted
Our product is tailored to order by hand, signifying it's made as per demand, which leads to minimal waste and a more eco-friendly production process compared to conventional manufacturing. By selecting our product, you're positively impacting the environment.
Supporting Local Ecosystem
Whenever feasible, we aim to fulfill 78% of our orders within the same region as our customers. This not only supports local businesses but also significantly reduces carbon emissions, thus minimizing our ecological footprint.
We rely on our suppliers for precise measurements of our products, and there might be a slight deviation of up to 2" (5cm).
Here's an insider tip to secure your perfect fit!
To guarantee the optimal fit, we suggest you measure one of your own garments at home and juxtapose it with the specifications provided in our sizing guide.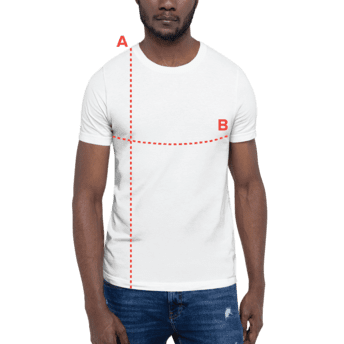 A Length
Position the end of the tape beside the collar at the apex of the tee (Highest Point Shoulder). Extend the tape measure down to the shirt's bottom edge.
B Width
Start the end of the tape at the seam under one sleeve and extend the tape measure across the shirt to the seam under the opposite sleeve.
Inches
| | | |
| --- | --- | --- |
| SIZE LABEL | LENGTH | WIDTH |
| XS | 27 | 16 ½ |
| S | 28 | 18 |
| M | 29 | 20 |
| L | 30 | 22 |
| XL | 31 | 24 |
| 2XL | 32 | 26 |
| 3XL | 33 | 28 |
| 4XL | 34 | 30 |
Product measurements may vary by up to 2"
Centimeters
| | | |
| --- | --- | --- |
| SIZE LABEL | LENGTH | WIDTH |
| XS | 68.6 | 40.6 |
| S | 71.1 | 45.7 |
| M | 73.7 | 50.8 |
| L | 76.2 | 55.9 |
| XL | 78.7 | 61 |
| 2XL | 81.3 | 66 |
| 3XL | 83.8 | 71.1 |
| 4XL | 86.4 | 76.2 |
Product measurements may vary by up to (5 cm).
Wash
Ensure the longevity of your T-shirt by machine washing cold, inside-out, on a gentle cycle with mild detergent alongside similar colors. Utilize non-chlorine bleach only when absolutely necessary. Refrain from using fabric softeners.
Dry
For optimal durability, consider tumble drying on a low setting or hang-drying.
Iron
If ironing is required, make sure to turn the shirt inside-out and use a cool setting. Avoid ironing the decoration.
Dry Clean
Do not dry clean.
Steer clear of dry cleaning to maintain the integrity of the shirt.
Returns & Exchanges Policy:
Please note that certain items, including those on clearance, may not be eligible for return or exchange.
For comprehensive information, please view our Returns & Exchanges Details.