BOXA Waterways T-Shirt
The BOXA Waterways T-shirt is a heartfelt ode to the tranquil beauty of waterfronts kissed by the hues of the setting sun.
Each detail of this shirt resonates with the melodious rhythm of lapping waves and the soothing rustle of breezy palms.
Just like the peaceful serenity of nature, this shirt brings a sense of calm and ease into your life, not just through its enchanting design but also through the comfort of its 100% combed and ring-spun cotton fabric.
Picture the canvas of the sky as the day ends, the last rays of the sun reaching out to gently touch the calm waters, setting the world ablaze in a riot of colors.
This is the scene that the BOXA Waterways T-shirt transports you to. It's not just a piece of apparel; it's a frame capturing a moment of nature's splendor.
Beneath the breathtaking design, the BOXA Waterways T-shirt boasts an array of quality specifications.
The fabric is of premium quality, ensuring a light and comfortable feel with a weight of 4.2 oz/yd² (142 g/m²).
The side-seamed construction provides a tailored fit that flatters every body type, while the pre-shrunk fabric ensures that your perfect fit stays perfect, wash after wash.
The shirt features shoulder-to-shoulder taping for enhanced durability.
This T-shirt is designed to be a long-standing companion to your beach visits, camping trips, and all your outdoor adventures.
The BOXA Waterways design is a subtle yet striking reminder of the brand's commitment to celebrating the outdoors and the beach life.
Ultimately, the BOXA Waterways T-shirt is more than just a shirt. It's a statement piece that tells the world about your love for the outdoors, your passion for exploration, and your sense of style.
The powerful visuals of the waters and the reflection of the sunset are not just a design, but a promise of the adventures that await.
Every time you wear this shirt, you're stepping into a story of captivating sunsets and calming waters. You're embracing the spirit of the beach life.
Style & Fit
Standard Fit
Our fabric is engineered to provide freedom of movement, accompanied by a typical length that meets the demands of any activity.
Everyday Style
Our cherished customers favor this enduring and adaptable selection, making it the go-to choice for daily wear.
Side-Seamed
Our unique manufacturing process stitches two pieces together, creating a neat and body-contouring silhouette.
Reinforced Shoulder Taping
Covering the shoulder and neck seams, our reinforced tape or binding handles stress points remarkably, acting as a hallmark of the exceptional caliber of our shirt construction.
Material
Pure Tones
Our pure tones are composed of 100% combed and ring-spun cotton, guaranteeing top-tier quality and unrivaled comfort.
Diverse Hues
Our T-shirt is available in an array of shades, including Ash (composed of 99% combed and ring-spun cotton and 1% polyester), Heather variants (crafted from 52% combed and ring-spun cotton and 48% polyester), Athletic and Black Heather (constructed with 90% combed and ring-spun cotton and 10% polyester), and Heather Prism colors (made up of 99% combed and ring-spun cotton and 1% polyester).
Fabric weight: 4.2 oz/yd² (142 g/m²)
Pre-treated for longevity
Features
Bestseller
Our best-selling item, loved by our customers, has evolved into a fan favorite, standing out in the crowd.
Conscientiously Made
Our devotion to ethical and sustainable methods is evident in our 100% sweatshop-free and environmentally conscious production. Possessing a soft and lightweight touch, with just the perfect level of stretch, and a universally flattering fit, this T-shirt is poised to be an all-round favorite and your next wardrobe essential. We can't emphasize its merits enough!
Custom Crafted
Our product is tailored to order by hand, signifying it's made as per demand, which leads to minimal waste and a more eco-friendly production process compared to conventional manufacturing. By selecting our product, you're positively impacting the environment.
Supporting Local Ecosystem
Whenever feasible, we aim to fulfill 78% of our orders within the same region as our customers. This not only supports local businesses but also significantly reduces carbon emissions, thus minimizing our ecological footprint.
We rely on our suppliers for precise measurements of our products, and there might be a slight deviation of up to 2" (5cm).
Here's an insider tip to secure your perfect fit!
To guarantee the optimal fit, we suggest you measure one of your own garments at home and juxtapose it with the specifications provided in our sizing guide.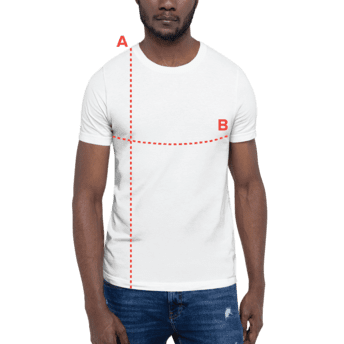 A Length
Position the end of the tape beside the collar at the apex of the tee (Highest Point Shoulder). Extend the tape measure down to the shirt's bottom edge.
B Width
Start the end of the tape at the seam under one sleeve and extend the tape measure across the shirt to the seam under the opposite sleeve.
Inches
| | | |
| --- | --- | --- |
| SIZE LABEL | LENGTH | WIDTH |
| XS | 27 | 16 ½ |
| S | 28 | 18 |
| M | 29 | 20 |
| L | 30 | 22 |
| XL | 31 | 24 |
| 2XL | 32 | 26 |
| 3XL | 33 | 28 |
| 4XL | 34 | 30 |
Product measurements may vary by up to 2"
Centimeters
| | | |
| --- | --- | --- |
| SIZE LABEL | LENGTH | WIDTH |
| XS | 68.6 | 40.6 |
| S | 71.1 | 45.7 |
| M | 73.7 | 50.8 |
| L | 76.2 | 55.9 |
| XL | 78.7 | 61 |
| 2XL | 81.3 | 66 |
| 3XL | 83.8 | 71.1 |
| 4XL | 86.4 | 76.2 |
Product measurements may vary by up to (5 cm).
Wash
Ensure the longevity of your T-shirt by machine washing cold, inside-out, on a gentle cycle with mild detergent alongside similar colors. Utilize non-chlorine bleach only when absolutely necessary. Refrain from using fabric softeners.
Dry
For optimal durability, consider tumble drying on a low setting or hang-drying.
Iron
If ironing is required, make sure to turn the shirt inside-out and use a cool setting. Avoid ironing the decoration.
Dry Clean
Do not dry clean.
Steer clear of dry cleaning to maintain the integrity of the shirt.
Returns & Exchanges Policy:
Please note that certain items, including those on clearance, may not be eligible for return or exchange.
For comprehensive information, please view our Returns & Exchanges Details.